A little side street in Vršovice, part of Prague's 10th district. People hasting to work in the morning, hasting back home in the evening, the same grim faces. The garbage van blocks the steep lane. The little Armenian food store on the other side of the street opens its shutters. People are walking their dogs. The little street has become more colourful in recent years. We are in a pretty, lively, but quiet neighbouhood.
You want authenticity? Real life instead of the touristic hustle downtown?
Have it.

We're a second-hand guesthouse in a second-hand street

. No great views.
Unless you follow our advice to go to the little winery in the
gorgeous park around the corner, have a glass on the terrace above the vineyard and watch a great sunset…
With us you will experience a Prague you had no idea about. Our subtitle says "History & Culture": Books, videos, endless chats about politics, history, language, architecture, literature, religion, lots of information material, plenty of useful advice, individual city walks, and so on.
Do you know what Richard II. has to do with that apparently modern church close to our place?
Have you ever asked yourself why they write in a different script in Russia? Why is the cathedral standing in the middle of the castle? Who were Werfel, Kisch, Brod, Urzidil, Leppin, Pick? Which pork-and-dumpling-city got an award for its veggie and vegan restaurant scene? Which club has the best steam punk design? What are DesignBlok and the SignalFestival? Why are Picasso's early works
hanging in the National Gallery? Why is St. Wenceslas' horse hanging upside down in a shopping centre from the 1930ies…?
We would like to welcome travellers who would like to know more about Prague…
…than castle, Charles bridge and beer, or those who would like to come again because they got curious after their first visit.
Thus, ARCO guesthouse does not only stand for accommodation, but for letting you experience an old and new Prague that you have never seen before.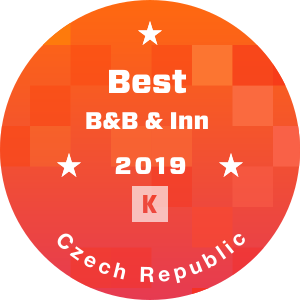 We got more than 250 very good reviews on airbnb and are now (November 2019) ranking on 3rd position out of 390 pensions in Prague on Tripadvisor. And here (French) and here (Hebrew) are comments we are particularly happy about!

We are NOT perfect. But we try our best.
We would be glad to welcome you!
This feedback form is for general comments. If you would like to book a room, please go to "Booking&Payment".